June – Italy continued
More scenes from the gardens of Villa Schifanoia in Fiesole… the gardens were geometrical and formal in some ways, but the abundance and profusion of funky planters of various shapes and sizes added a more relaxed and organic feeling. There was wisteria climbing up walls, roses and geraniums spilling out of big clay posts. And that familiar golden glow of walls and light…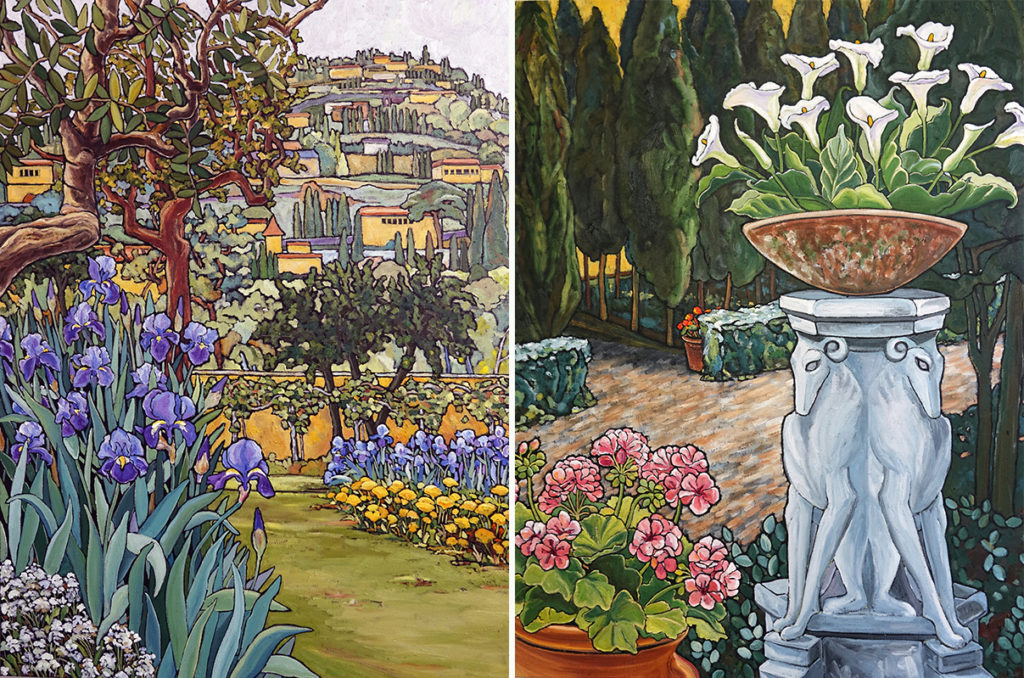 March 2021 Revisiting Italy
March 23 • I don't think I have ever painted Calla lilies in the past, but with these two new paintings I found that the white blooms against golden stucco walls were delightful – they radiate sunshine, warmth and light!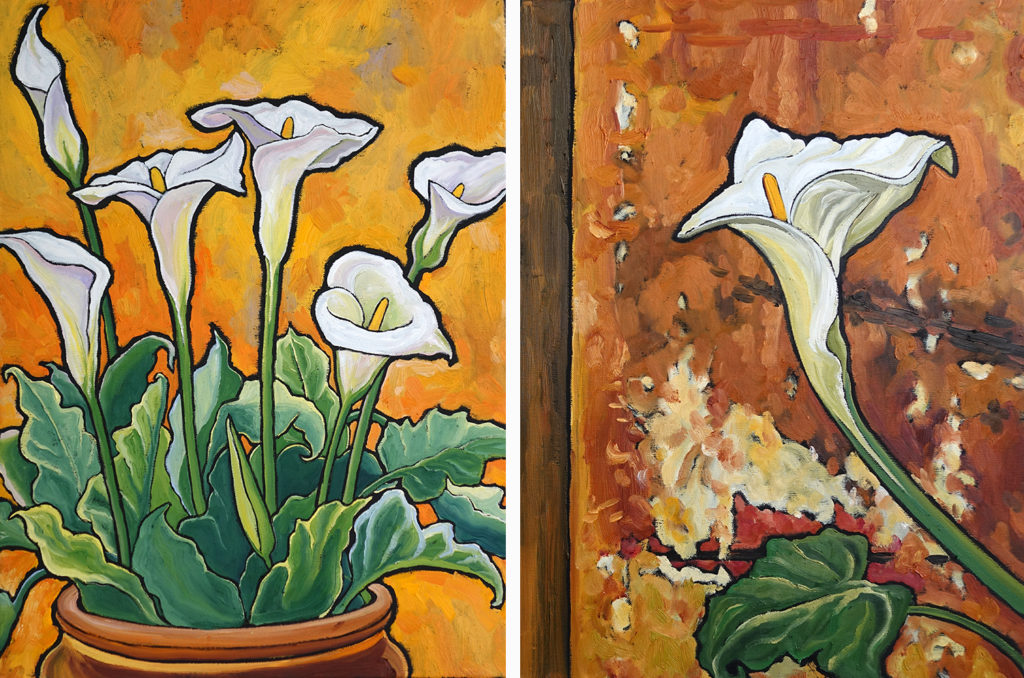 March 1 • After posting the Bulb Show gallery, I wasn't sure where my focus would turn next. But suddenly, you might say miraculously, several coincidences led me back to Italy, a place dear to my heart. I had the good luck, parental support and perserverance to get myself to Florence, Italy for a graduate program in fine arts. I can't quite believe it has been almost 40 years since then, but all I have to do is think or read the word Italy and myriad images and memories crowd into my head. So I am curious to see where this will lead, digging out photos (real print photos) from so long ago as well as newer digital ones from a 2017 return trip with my dear friend Robin.
In 1983 the Villa Schifanoia estate housed my graduate program and was located in a lovely rural town in the hills above Florence. We students would take bus #7 from Florence to Fiesole, walk down a bit of a lane along a tall wall, and then open a huge black metal door and step into paradise. The large golden villa with chapel rose up on my right, trees faded into tuscan hills straight ahead, and spreading down and below to the left, geometrical gardens colorful with flowers and statuary and shaped bushes spread out towards surrounding out-buildings which contained classrooms, individual artist studios and a wonderful printmaking workshop.
My studio was in a long narrow building coated in crumbly plaster painted gold – a glowing warm color that most deeply represents Italy to me. Flowing all over the facade of this building, encircling many of the studio windows, were gnarly ancient vines of wisteria. Their droopy intertwined branches were loaded with purple blooms, and bees buzzed busily on the flowers and in and out of the studios.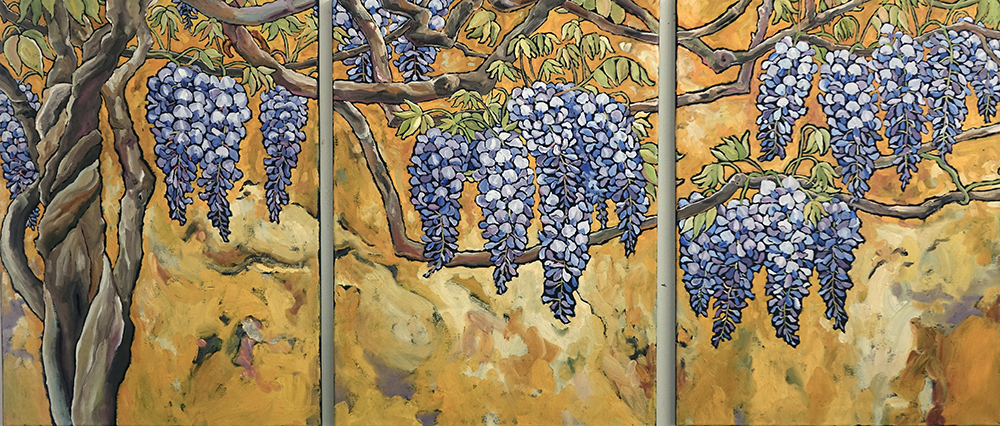 In grad school I enjoyed working with botanical images in the printmaking workshop, a vast space with huge old star-wheel printing presses. But my oil paintings were in a more abstract vein, and I wasn't focused on capturing the landscape but something less serene.

Currently, with landscape being a main pictorial interest, I am excited to revisit Italy with color, to envision another trip there in the future, and to see where these next paintings take me. I dug right in this past week with an image of wisteria on a golden wall, but it needed more space and became a diptych, and still needed more and became a triptych, as seen above at about 85% complete.
---
Feb 2021 Smith College Bulb Show
Finished a body of work based on several years of photographs from the annual Botanic Garden Bulb Show. Sadly this glorious show is unavailable to the public for a 2nd year due to covid, but on March 6 a virtual experience of the extravaganza opens: virtual bulb show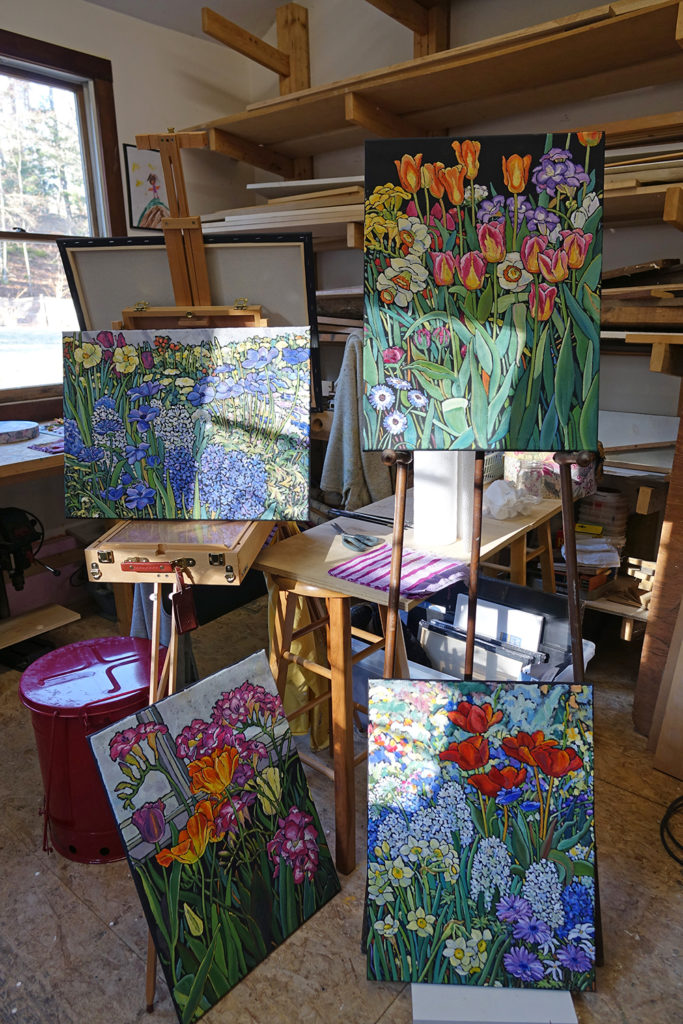 I started this series in my studio and continued it in our barn (my husband Bobby kindly shared his woodshop) when covid protocols shut down the Leverett Crafts and Arts center. The best part was completing the final works in the cold months – a colorful joyful way to escape the dreariness of a covid winter.
---
2020 Coast of Maine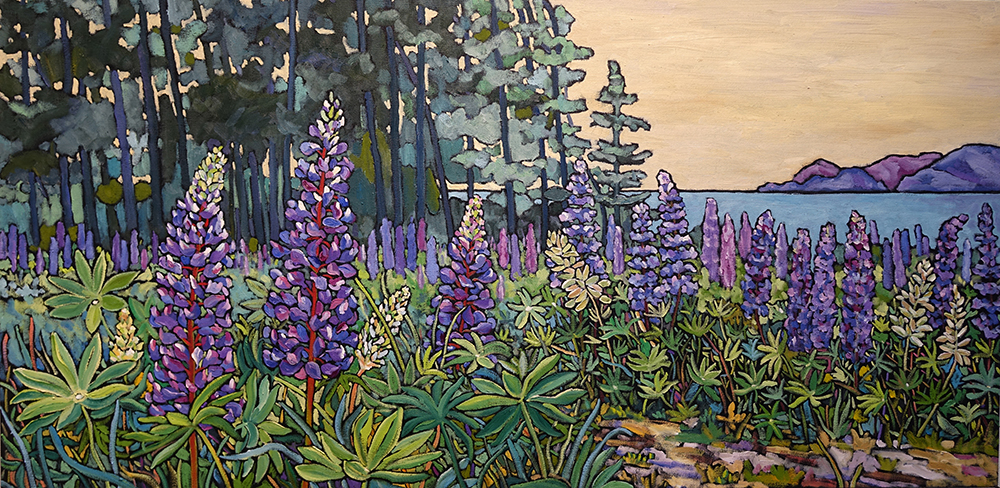 Several trips to the Mt Desert Island/Acadia National Park as well as Hermit Island provided wonderful coastal views and experiences. In various harbors I was drawn to the colorful and well worn fishing boats, as well as other aspects of industry by the water – docks and equipment for loading and unloading, brightly colored lobster pots, barrels and buoys. I hadn't ever painted boats before, but they had so much personality I had to try it.

And the ever present lupine also presented an irrestible beauty show – anywhere and everywhere they decorated roadsides and fields, numerous as weeds but bigger and bolder. Paintings ensued!